One API for all best translator vendors
Neural Machine Translation via one universal API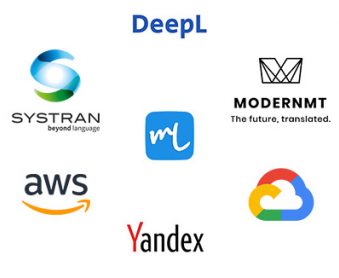 The best translator doesn't exist
Billions of quality source data must be fed into the training model to teach AI to translate a language pair. A perfectly working training model for a given current language pair will not work for another. Moreover, it will not work in the opposite direction.
Getting closer to human translation, vendors aimed to build the best model architecture. For example, BERT architecture from Google achieves a GLUE benchmark of 80.4%, MultiNLI accuracy to 86.7. So one NLP is different to another NLP.
We are entering a new era in AI where we are not doing machine translation, but Deep Bidirectional Language Understanding. And there are no forever leaders in this new era, as evidenced by the example of the small company called Deepl.
You don't have to try all the dictionary vendors to find out which are the best.
Top examples of language pairs selection
As you can see, one dictionary is not enough even for one language pair.
The X-fold price efficiency is achieved by the fact that you do not purchase X translators at a time.
*The price is only for minimum subscription. With increasing volumes, the price decreases.
**The quality of translations is based on the average value of popular language pairs by hLEPOR metric.